WE ROCK USA - GRAND NATIONAL EVENT
Spring, TX
9th Place Finish ~ Engine #6 is still running!!!!
Driving to Spring, TX was just that, a really long drive. We arrived in high spirits and were ready for our last big event of the season! The east coast and west coast teams battle it out in the middle of the U.S. on man-made courses!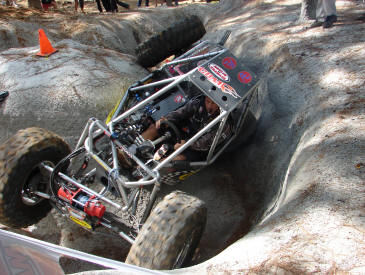 The courses on Saturday were challenging overall. Cody and Jim crawled right through the first course with one back up which seemed to set the mood for the rest of the day! They were on fire and completed course after course with minimal errors! Not to mention engine #6 ran perfect the entire day! At the end of our hot and humid day the guys were sitting in 3rd place. We were only 14 points away from possibly catching Shannon Campbell who was in first place. It was a great start to the event and with a little rest we will be ready for Sunday!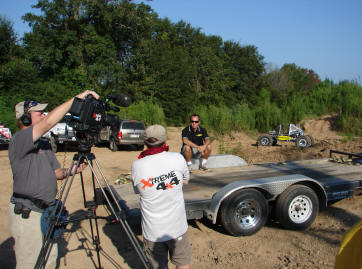 Sunday was an exciting day for our team! Not only were we going into the final day in 3rd place we were being interviewed by Xtreme 4x4 for an upcoming show to be aired in January 2008. It was a little different for our team to have the camera follow them all morning and very exciting to have the coverage for our sponsors! I was getting a little nervous for the guys when the crew was hooking up the camera and the microphones at each course. Now it wasn't just them on the course it was going to be an entire TV audience; the pressure was setting in.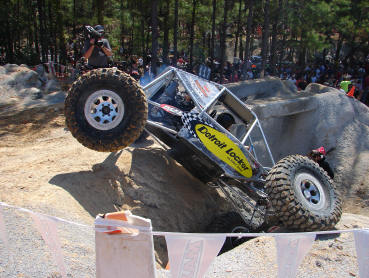 The courses seemed to be a little tougher today and very "rear-steer friendly". Cones were set up so close together that if you hit one you probably were going to hit two. The courses seemed to be much tighter than WE ROCK normally designs. In the end Sunday just didn't go as smooth as Saturday. Not one thing was to blame – it was just an overall cluster of silly mistakes. Unfortunately the guys went from 3rd place to 9th place the final day. The overall positive outcome of the event is the great coverage we will have on Xtreme 4x4!!! The guys gave them some really good reality TV and we can't wait to see the final product in a few months!
Round trip was over 3,200 miles through 4 states. With giant stickers on our trailer; that is what I call advertising for our sponsors!
Lindsay Waggoner
| | | | | | | | | | | | |
| --- | --- | --- | --- | --- | --- | --- | --- | --- | --- | --- | --- |
| DRIVER | A1 | A2 | A3 | A4 | A5 | B1 | B2 | B3 | B4 | Finals | Total |
| Shannon Campbell | -13 | 0 | -4 | -13 | 0 | -10 | 0 | 24 | 9 | 25 | 18 |
| Jesse Haines | -12 | 2 | -4 | -4 | 0 | 2 | 5 | 27 | 3 | 2 | 21 |
| Matt Deas | -11 | 6 | 3 | 0 | 0 | 7 | 10 | 6 | 14 | 0 | 35 |
| Brad Styles | -11 | 3 | 15 | -8 | 0 | -3 | 16 | 27 | 6 | 11 | 56 |
| Mad Rock Racing | -13 | 20 | 14 | -11 | 0 | -10 | 15 | 14 | 3 | 36 | 68 |
| Jason Paule | -7 | 2 | 5 | 14 | 0 | -6 | 6 | 17 | 6 | 36 | 73 |
| Alan Woodson | 5 | 3 | 14 | 9 | 0 | -6 | 5 | 15 | 16 | 50 | 111 |
| Mark Ruffing | -12 | 27 | -3 | -13 | 0 | 13 | 24 | 15 | 15 | 50 | 116 |
| Cody Waggoner | -12 | 10 | 0 | -14 | 0 | 24 | 7 | 26 | 29 | 50 | 120 |
| Tracy Jordan | -6 | 17 | 7 | 4 | 0 | 3 | 7 | 28 | 37 | 50 | 147 |
Pictures also available on webshots - Click HERE