WE ROCK USA - EVENT #1
FIESTA HOTEL & CASINO ~ HENDERSON, NV
7th Place Finish
What an event!!!! Exciting... Thrilling...Exhilarating... Overall WOW!!!

Cody and Jim gave it their all and did a great job at the Fiesta Hotel & Casino WE ROCK USA Event. Our new engine, (engine #4), is still running and that is the best news! Even with a couple of mishaps during the event we finished 7th out of 18.
Our new engine has a little more torc than Cody is used to and with this being the first event and first time out with "Roxanne" in over 3 months it's all about getting used to her new bounces and twists. As Cody backed up to reposition "Roxanne" to start his decent down a hill she decided to do one of those new bounces. It threw Cody in an odd position on and ultimately caused his first roll on Saturday which took us from 1st place to 5th. It's always heartbreaking when this happens to anyone, but it makes you even more determined to play catch up the next day.
And we were prepared Sunday to do just that. Cody and Jim set the pace until course B3, "THE WALL". Cody drove right up the one side and made it look so easy, but on the back side was the bonus line. We needed to attempt it to stay in the top slots and you can say Cody really "took off" and rose to the occasion. Maybe he rose a little too high; at one point clearing his rear tires over the top of "THE WALL". Below is the picture Chris Geiger of Trail Gear took. This was taken on his way back down so you can imagine how high he actually was!!! It was very exciting to see standing from the side lines.
<![if !vml]>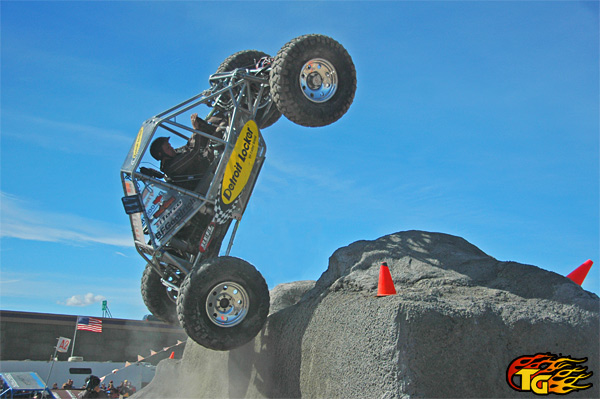 <![endif]>

Even though Cody was pitched backwards he put on a great show and the spectators went crazy. With a roll as hard as this our main concern was to get "Roxanne" back to the trailer and check everything out. Surprisingly the engine started up and we were good to go. So Cody and Jim were off to the final Course and ended the day/event on a high note.
Lindsay
| | | | | | | | | | | |
| --- | --- | --- | --- | --- | --- | --- | --- | --- | --- | --- |
| DRIVER | A1 | A2 | A3 | A4 | B1 | B2 | B3 | B4 | Finals | Total |
| Jason Paule | 17 | 6 | 4 | 13 | 2 | 3 | -4 | -7 | 12 | 46 |
| Bruce Zeller | 13 | 11 | 4 | 10 | 9 | 1 | -12 | 11 | 12 | 59 |
| Tracy Jordan | 9 | 8 | 4 | 10 | 7 | 1 | 1 | 17 | 24 | 81 |
| Jason Scherer | 11 | 1 | 1 | 10 | 7 | 21 | -6 | 13 | 37 | 95 |
| Shannon Campbell | 11 | 11 | 19 | 9 | 8 | 2 | 8 | -2 | 31 | 97 |
| Peter Antunac | 24 | 23 | 5 | 13 | 7 | 4 | -7 | 15 | 37 | 121 |
| Cody Waggoner | 9 | 1 | 3 | 39 | 8 | 11 | 37 | 12 | 50 | 170 |
Pictures also available on webshots - Click HERE
< BACK