WE ROCK USA - EVENT #3
Sands Regency Hotel Parking Lot in Reno, NV
2nd Place Finish after another heartbreaker in the shoot out!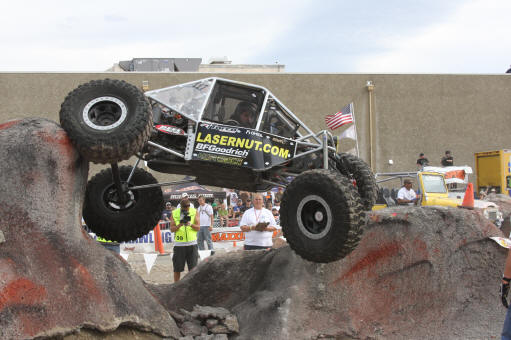 Team Waggoner, of Capistrano Beach, had another fantastic, but frustrating weekend of competition!
Going into the 3rd event of the WE ROCK Series, only one point separated Team Waggoner and Jesse Haines for the first place series title to be that much closer to a reality. Cody and Jim were determined to win this event and they showed it course after course on Saturday.
Returning to their old school style of wheeling they played it conservative and smart the entire first day of competition.
They kept the pressure on the other competitors by finishing every course. "These types of courses that are tight and technical always force you to take crazy lines that have you crawling inches away from a cone; it puts the pressure on all of us drivers and spotters to be on top of our game." Cody comments.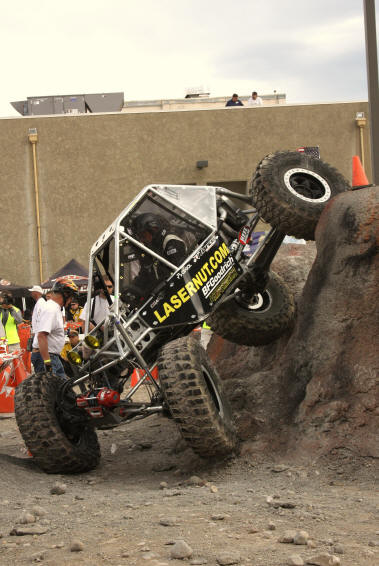 Day 1 of competition was over and Team Waggoner was only 17 points behind Haines. With courses like these it is not over until it is over. Sunday still gave the team an opening to take the lead and win this event.
This set of "B" courses seemed to be much tighter and more of a 'cone fest' then the day before. Some of the competitors were reaching the maximum amount of penalty points before they finished the course, even with plenty of time remaining on the clock. Sunday was going to be all about who stays on their wheels and finishes the courses.
That is exactly what Cody and Jim did and they were able to take the lead from Haines before the day was through.
Going into the shoot out Team Waggoner had a nice little cushion and pretty much just needed to finish the course to take their 22nd career first place win.
The team had another shoot-out heart break … literally a break… Cody and Jim started the shootout in first place and watch the previous 5 competitors attempt the course, only 3 finished in time. Every one of the competitors took at least 2-3 cones in the shootout.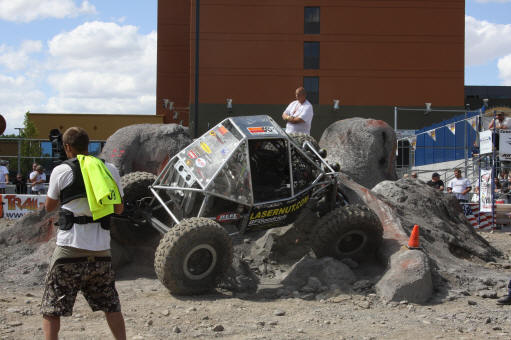 The very first set of cones seemed to hold everyone up when they attempted to go around, even causing one to roll over. It seemed to be the cone that everyone would "have to take"… until Cody drove on course. He took a whole new approach and backed through the cones with no issues. "Without rear-steer you have to be a little creative especially when you see everyone hitting the same cone you have to try something different." Cody says.
The rest of the course was going to be a breeze for the most part; right… well that is when it happened. Actually something happened, but it wasn't something it was nothing… the moon buggy just died climbing up the 3rd section of the shootout.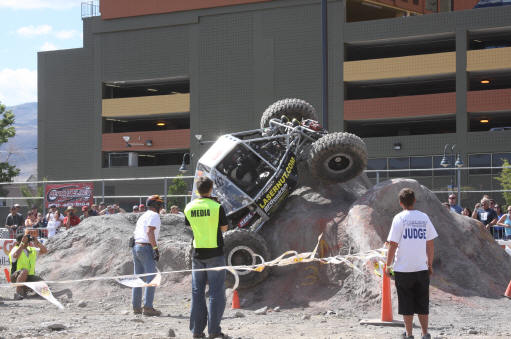 Comments came from the crowd that the buggy ran out of gas, but the team always keeps it topped off, so that can't be it. There is no sound, not even the ringing sound of the engine trying to turn over… there is NO power at all.
Cody and Jim were so confused and not knowing what happened or why they only could bang rocks on the starter and clank things around the engine see if it would wiggle a wire or bolt back in place that would help bring "Roxanne" roaring to life again.
And nothing… no sound… except for the crowd moaning in disbelief. The time of the clock ran down to seconds and the crowd counted down…..
5….4…..3…..2……1…..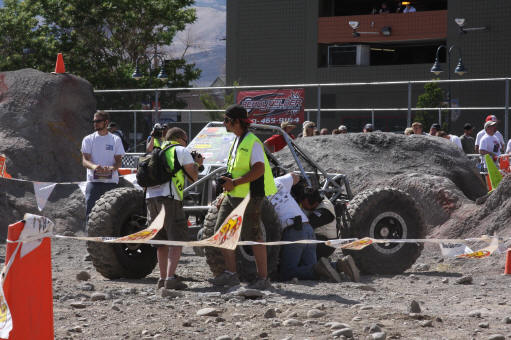 A disappointed Cody was towed back to the pits only to have a friend and fellow competitor come over to help him. They banged around the starter and the buggy roared to life… just a few minutes too late to matter. This is the second heartbreak shootout of the season for Team Waggoner; at the last event their shootout score caused a tie between Waggoner and Haines; and in a tie breaker rule the win went to Haines. With the series only having one event remaining it makes things that much more frustrating for the guys when they are working so hard to regain a 1st Place Series Title.
Now tied for first place, with no room for mistakes, it comes down to Team Waggoner battling it out for the First Place Series Title of the 2009 WE ROCK Series. Final 2009 WE ROCK Series Event will be July 18-19 in Oroville, CA.
Live Event Coverage on Pirate 4x4
TWR WEBSHOTS LINK TO RENO PICTURES