WE ROCK USA - EVENT #4
WEST COAST SERIES FINALS ~ Oroville, CA
1st Place Event Finish
2009 WE ROCK West Coast Series Champions
Courtesy Photo Below by J.T. Shaver ~ www.Trail-Gear.com
<![if !vml]>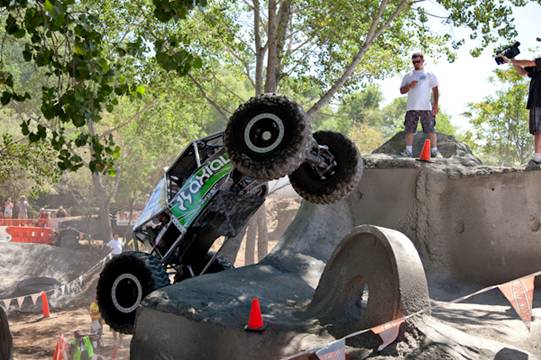 <![endif]>Team Waggoner, of Capistrano Beach, CA, earns their 23rd career first place win at the final WE ROCK West Coast Series in Oroville, CA! They also clinched their Sixth 1st Place Championship Series Title.
What a fantastic year for this team! With their new premier sponsor, Axial, Cody and Jim were more than prepared for this event. They were not going to settle for 2nd Place and were determined to clinch the event win and Series Title. Team Waggoner was tied for the series with Jesse Haines, another tough competitor in the unlimited class, but they were not out to "beat" anyone, they were out to prove to themselves they could win it all.
Their key strategy is nothing fancy or tricky and it dates back to Cody and his father's early CJ-5 competition days together. Cody explains "I think my dad and I came up with it a long time ago and it started out as a joke at first. We called it "The Three C's" and it has stuck over the years. I don't like to pressure myself too much because that is when mistakes can happen. So as a team we try to stay Calm and play it Conservative when needed, and are Consistent; that's when the cards always seem to fall our way. Sometimes the three C's are thrown out the window and the competition gets the best of us, but we have always been pretty consistent and it seems to work out for us."
Well their team strategy of playing it Calm, Conservative and Consistent earned them the well deserved 1st Place Title!
<![if !vml]>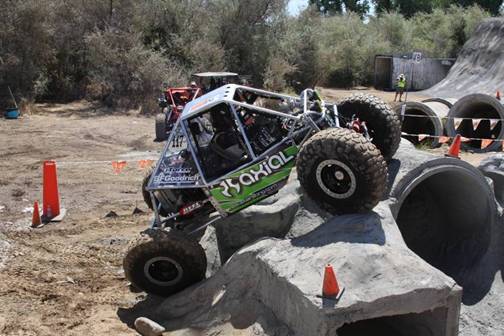 <![endif]> <![if !vml]>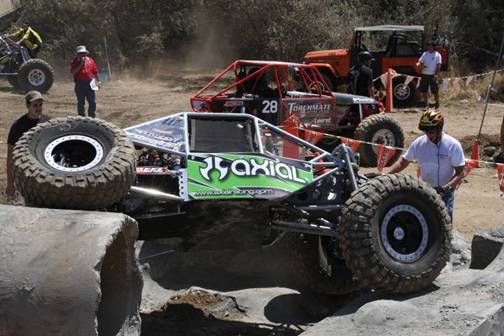 <![endif]>
The new event site in Oroville, CA was easily crowned the toughest man made courses any of the teams have ever seen. Tight technical turns, hill climbs that had no room for error, off camber sections that had vehicles rolling into trees and breaking all over the place; carnage was everywhere you looked. This kind of carnage was exactly what the spectators came for and what the competitors tried to avoid. It pushed all the drivers to their ultimate limit. The weather was also a huge factor. Temperatures reached over 107 degrees and no wind to really speak of. Drivers in their fire suits were doing what they could to stay cool. Shade was a nice break, but it was still too hot to cool down to a comfortable temperature. It was all around HOT, HOT, HOT!
<![if !vml]>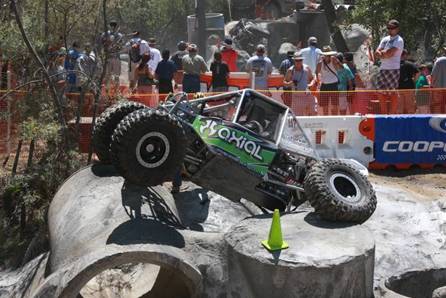 <![endif]><![if !vml]>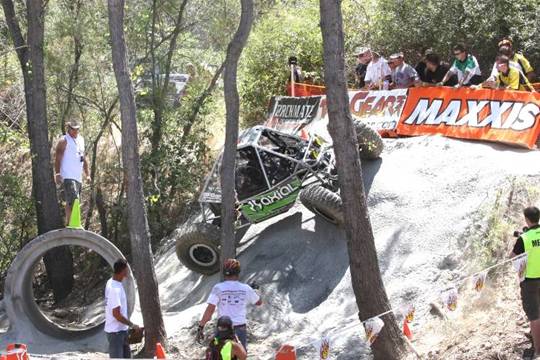 <![endif]>Team Waggoner was not only trying to keep themselves cool enough to think straight, but also had to consider keeping the buggy cool too. "Roxanne", the team's moon buggy, ran perfect! Thanks to the fantastic team at CBM Motorsports. "The CBM crew is always there for our team and has the buggy tuned perfect before events if needed. You are only as good as your equipment and we have a great group of sponsors that keep us running." Lindsay comments.
Sometimes teams can tell what courses they would rather not start on because of the difficulty level, but this weekend was like no other. There was not one course that seemed easier than the others. They were all equally challenging. Each course had its own section of a hill climb or twisty turning cone maneuvering, which put pressure on every team.
Rear steer is commonly seen to be an advantage in most cases, but at this event it didn't seem to matter. Most of those tight turns were situated on an off camber section where every driver was sliding down and around cones even if they tried to steer around them. Cody made some of these tight sections seem effortless. Dustin Webster, one of the event announcers, seemed to be just as surprised and would remind the spectators that Cody's buggy did not have rear steer. The BF Goodrich Krawlers hooked up to the gunite made courses. "With these tires there is nothing my buggy cannot climb." Cody states.
<![if !vml]>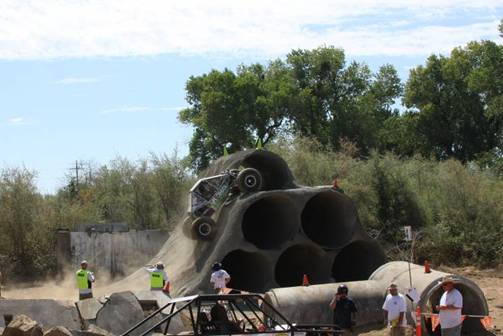 <![endif]> <![if !vml]>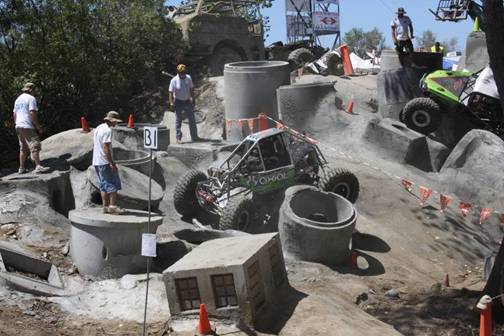 <![endif]>
<![if !vml]>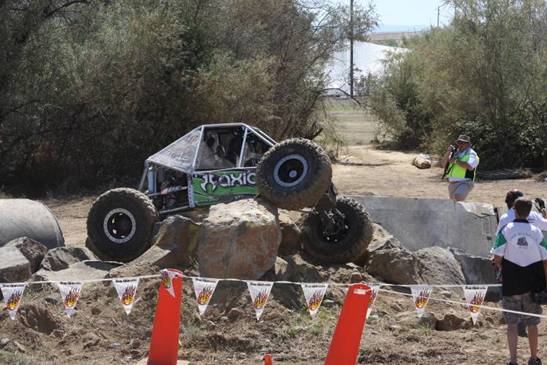 <![endif]>Saturday ended on a high note for Team Waggoner; they were leading the pack by 11 points and every point counted this weekend. Cody and Jim played it conservative throughout the first day of competition and it paid off. Would the "Three C's" work for the team on Sunday?
Sunday's courses seemed to be just as tough as Saturday's; and the competition would all be on their game! Every back up and every cone that Team Waggoner took would close the 11 point gap. Cody and Jim stuck to their original plan and finished each course with minimal penalties. They finished the four courses on Sunday with a total of 27 points. The rest of the pack seemed to falter along the way and the 11 point gap grew to a 32 point difference. Cody was clearly the weekend leader, but that could all change. The Shoot Out is the most challenging course of the weekend and determines the best of the best; not only for the event, but the entire West Coast Series.
The Shoot Out consists of the top six drivers over the two day event, battling it out to try and jump up in position if possible. All it takes is for one competitor to not complete the course and that leaves room for another competitor to move up a position or two. Even with a 32 point difference there was still a chance for Jason Paule, one of the best drivers in rock crawling, to move up and take the win for the event. While Cody and Jim had to sit and watch each of the top 5 competitors run the shoot out the pressure only mounted. The first three to run the course timed out and were unable to finish. Matt Messer, of Trail-Gear, was the first to finish with a score of 19 points. Paule ran next and also finished the course with only 1 second left on the clock. Cody had to finish the course to win the event and that is what he came to do.
Right off the bat Cody seemed to be on the right track then all of a sudden everything changed. Cody's father, Jim, ran up the steep course and helped guide Cody around the bonus cones. Then "Roxanne" slowly began to slip off the cylinder and slowly began to get sideways. Everything that they tried to do seemed to make it worse. Teams are only allowed ten minutes to complete the course and Cody and Jim were coming up on five minutes working at getting unstuck. Then the struggle was over. "Roxanne" slid safely down which allowed Cody to get realigned only taking out two cones. All that was left was for Cody to finish the course within five minutes.
<![if !vml]>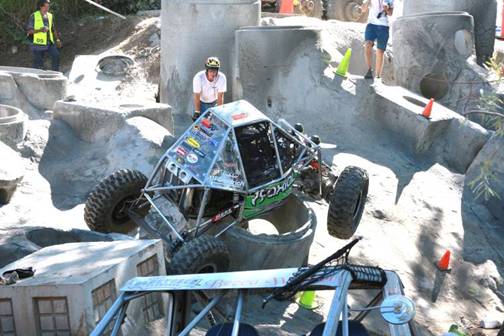 <![endif]> <![if !vml]>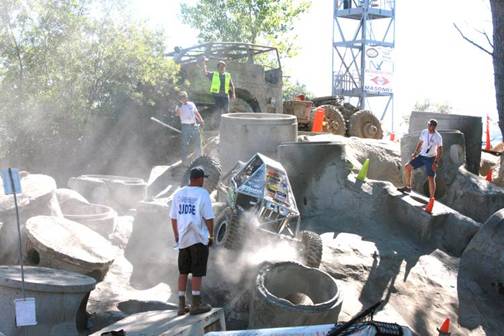 <![endif]>
And then he was off. Cody was maneuvering through the course with great care, but with a little speed behind him now. Everything seemed to come together for these guys and they made the rest of the course with little error.
<![if !vml]>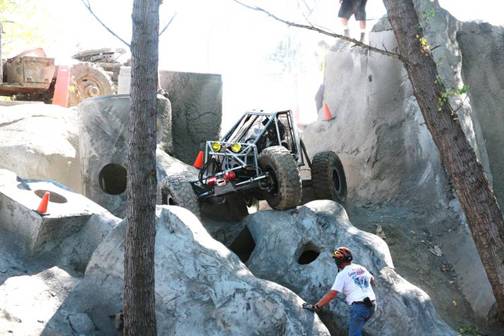 <![endif]> <![if !vml]>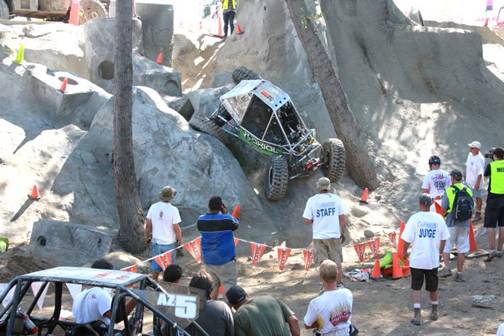 <![endif]>
The final section of the course seemed to be the toughest section over the entire two day event. With a little launching pad area and not much room to make a run at it, this hill climb seemed to be the deal breaker for some. Cody lined up and with two minutes left on the clock and no room for error he revved the buggy to the limit and let off the gas at the ideal moment landing perfectly between the two cones and crested over the top. Cody turned around to drive right back down and up and over the top of a huge tunnel. It seemed like he paused at the top before coming down the other side of the tunnel; maybe realizing he had just done what he came to do! Win!
<![if !vml]>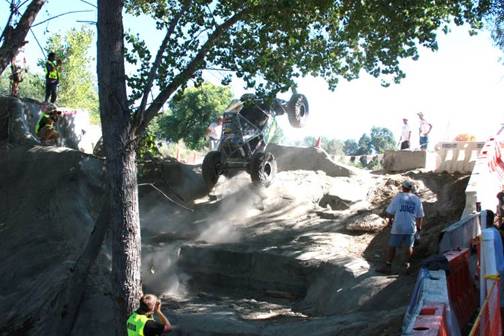 <![endif]> <![if !vml]>
<![endif]>
<![if !vml]>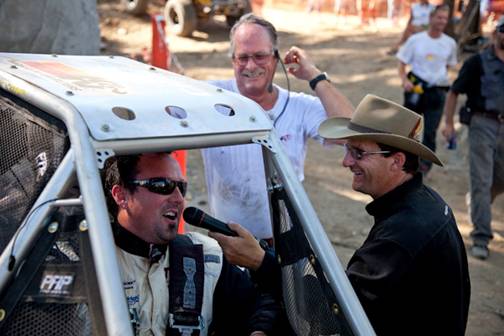 <![endif]>
Courtesy Photo by J.T. Shaver ~ www.Trail-Gear.com
Cody and his father finish this event in First place; 34 points a head of Paule and 89 points a head of Messer who finished in 3rd.
What a great way to finish the series! Congratulations to the team for a wonderful season!
More event pictures are located on Team Waggoner's Webshot Page. Click HERE for more team pictures.
Visit Pirate 4x4 for some awesome event coverage & pictures - Click Here
~ Click HERE for our event pictures on Webshots ~
Class:
Unlimited
Driver
Rig #
A1
A2
A3
A4
B1
B2
B3
B4
SO
Total
Cody Waggoner
117
20
19
38
-3
20
0
0
7
10
111
Jason Paule
OOO
16
13
38
22
38
2
1
3
12
145
Matt Messer
17
0
29
38
18
38
13
23
22
19
200
Jesse Haines
199
9
21
38
15
33
14
38
18
38
224
Rick Mooneyham
554
19
27
38
7
38
-2
38
22
38
225
Todd Young
OO3
12
37
38
37
38
40
8
6
37
253