WE ROCK USA - Grand National Event
Farmington, NM
4th Place Finish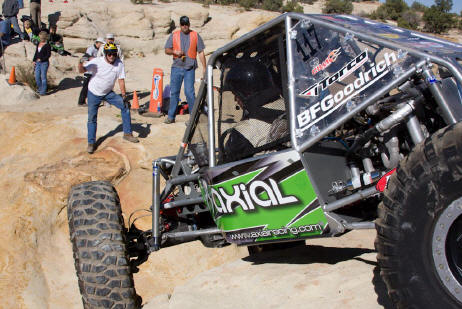 Team Waggoner, of Capistrano Beach, has proven to be among the best teams in Rock Crawling History. After this past weekends Grand National event in Farmington, New Mexico, Team Waggoner is sitting pretty as 4th in the Nation.
These were some tough courses in Farmington, NM and every team was on their game. There are always going to be the 'would have', 'could have', 'should haves', for every event and "Even though I can say that we had an off weekend, we still finished in a proud 4th place! I am proud of our team and very happy that we finished every course. Like with any competition I do I can pick apart each misstep and say where I went wrong but overall we did really well." comments Cody.
The BF Goodrich Krawlers hooked up and made some impossible climbs look easy. "With these tires there is nothing my buggy cannot climb." Cody states. The entire weekend had the "Roxanne" the teams moon buggy climbing and twisting and turning through some incredible courses.
"The courses were tight and technical which forced all drivers to take crazy lines. Sometimes the luck was with us and other times it wasn't. The buggy ran great and my CBM custom built Turbo Eco-Tec motor ran perfect." Cody comments.
Team Waggoner completed every course and stayed in the hunt for first place throughout the weekend. But Tracy Jordan, an amazing driver, seemed to be unstoppable, keeping the lead both days of competition.
When it came down to the Shoot Out Team Waggoner was sitting in 4th Place and hoping for a chance to move up in points. Cody and Jim definitely put the pressure on the other teams when they finished the Shoot Out with a -14 (best score of the Shoot Out). No other team came close to that score, but it still wasn't enough to move Team Waggoner up to a podium place finish.
Team Waggoner Racing finishes out the 2009 season with a very proud 4th Place National Rank and the Championship Title for 1st Place in the WE ROCK USA West Coast Series!
Visit YouTube and search Team Waggoner or Cody Waggoner for videos from the Grand National Event! It really shows how crazy some of these courses were over the weekend. Check out more pictures on Team Waggoner's Webshots photo gallery.
WE ROCK USA
Grand Nationals
Driver
Rig #
A1
A2
A3
A4
B1
B2
B3
B4
SO
Total
Rank
Tracy Jordan
112
3
-9
5
4
1
-18
-16
-4
6
-28
1
Brent Bradshaw
12
-1
6
19
8
-2
-23
-21
-14
37
9
2
Jesse Haines
199
2
2
1
38
1
-7
-16
-5
-2
14
3
Cody Waggoner
117
11
6
18
9
21
0
-21
-9
-14
21
4
Carl Shortridge
430
6
13
20
38
1
-18
-14
16
6
68
5
Jason Paule
OOO
3
-9
3
18
12
4
-3
21
38
87
6