WE ROCK USA - GRAND NATIONAL EVENT
Hannibal, MO
5th Place Finish
WEST COAST DOMINATED AT THE GRAND NATIONAL EVENT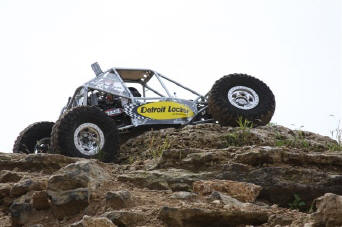 Team Waggoner Racing, of Capistrano Beach, returns from a successful event in Hannibal, Missouri where the WE ROCK Grand Nationals were held. Cody Waggoner finishes with a 5th place rank overall in the United States.
This was the biggest Rockcrawling event of the year and the only place where the best east coast and west coast drivers, who even qualified, battled it out for the coveted title of 'Grand National Champion'. "Being a part of this sport as well as being in the top ranks among drivers like Shannon Campbell and Jason Paule and Jesse Haines is a great feeling." states Cody. The top five competitors were from the west coast and defending champion, Shannon Campbell, wins it for the second year in a row.
The weather held out for the most part for the entire weekend. It rained just enough Friday night to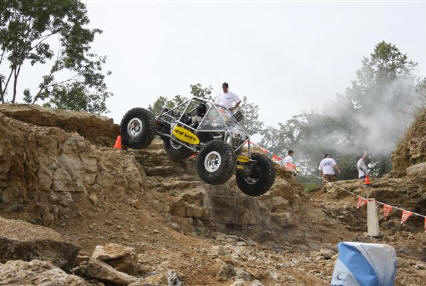 keep the ground nice and wet for the first day of competition. There was plenty of mud to go around and this made things very interesting for the competitors all weekend.
Team Waggoner has proved time and time again how well BF Goodrich Tires work and this event more than solidifies them as being the number one tire of choice for any terrain. "These tires just work; whether we are driving from dirt to rock or mud to rock. They never let me down and kept me grounded where I needed to be." Cody says. (As a side note… Five (5) of the top Six (6) ranked competitors were driving on BF Goodrich Tires!)
Overall the courses were really fun and challenging for everyone. Each course had technical elements that challenged every driver. Then of course there were the courses that required a lot of throttle. Those are always the crowd pleasers. It was a perfect mixture of both each day.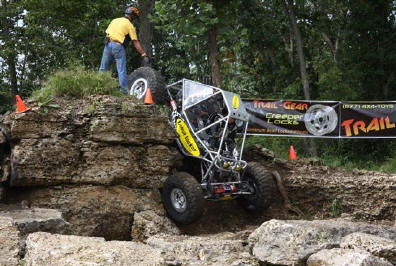 Saturday night it rained and really soaked the ground and made each of the courses extra challenging. There are always a couple cones that could have been missed but with the slippery rocks it didn't make things easier for any of the teams. By mid afternoon on Sunday the sun came out and helped dry up the mud and made for a great Shoot Out.
From the start of the Shoot Out Brad Styles, the only east coast driver to make the finals, put on the pressure by tackling the bonus hill climb. He set the bar for everyone else to follow.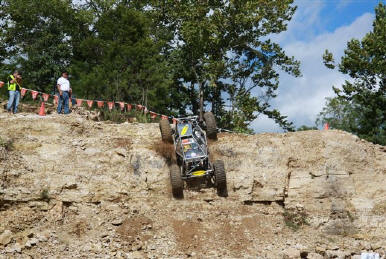 This was a steep hill climb and a lot of throttle was needed to get up on top. Unless you found the perfect line and hit it just right, like Jason Paule, you had to take a couple tries at it.
Even though it was a long course each unlimited driver made it through with a little time to spare.
Finishing 5th overall is a great accomplishment, but it still leaves Team Waggoner Racing with even more determination to come back next year and win!
The entire 2008 WE ROCK season ran smoothly and were very well organized. Team Waggoner appreciates each and every judge that has come out and volunteered their time to be a part of this fantastic sport! Dustin Webster has been a terrific event commentator and should receive and award for all his hard work and dedication to the sport of rock crawling. He really makes a difference at these events informing not only the spectators but the competitors what is going.
With Eaton Performance Products – Detroit Locker on board as their Platinum Sponsor, Team Waggoner Racing competed and placed 2nd overall in the WE ROCK Western US National Series across the United States. Other 2008 team sponsors that helped make this season possible include BF Goodrich Tires, K & N Engineering, CBM Motorsports, Torco Racing Oils, PRP Custom Racing Seats, Ryan Safety, Lightforce Lights, Howe Performance Power Steering, JE Reel Driveline Specialist, Fox Racing Shocks, Winchline.com, RCP Rock Crawlers, Axial, and Trail-Gear.
Click HERE for our event pictures on Webshots.
Visit Pirate 4x4 for additional coverage
Class:
Unlimited
Driver
Rig #
A1
A2
A3
A4
B1
B2
B3
B4
SO
Total
Rank
Shannon Campbell
5
9
2
-2
39
-2
4
9
-1
-2
56
1
Jason Paule
OOO
34
13
2
16
1
18
-3
6
-6
81
2
Jesse Haines
199
13
-17
3
-7
18
39
2
29
5
85
3
Brent Bradshaw
12
11
11
1
4
-1
39
7
38
1
111
4
Cody Waggoner
117
20
10
0
21
7
39
-3
30
2
126
5
Brad Styles
27
27
29
-2
24
4
13
-1
36
-2
128
6