WE ROCK USA - EVENT #4
Donner Ski Ranch, CA
2nd Place Event Finish & 2nd Place Series Title
TEAM WAGGONER EARNS A PROUD 2ND PLACE AT FINAL WE ROCK EVENT
AND TAKES 2ND PLACE FOR THE OVERALL SERIES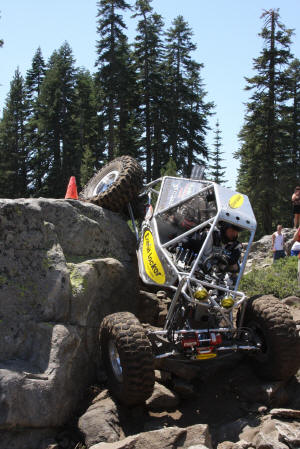 Capistrano Beach, CA – Team Waggoner Racing was glad to be back up North in Truckee, CA. The fresh air and clear blue skies really gets a team pumped and ready for a great weekend. "Donner Ski Ranch is our favorite spot to compete and we look forward to coming here every year. The crowds are always out in record numbers and we get to see a lot of familiar faces." comments Lindsay.
Unfortunately Team Waggoner has gone the entire year without a first place finish and this being the final event of the WE ROCK series they were determined to give it their all and earn that win.
The courses were set up with very tight turns, steep climbs and big drop-offs. At first glance the courses seemed pretty straight forward but once the buggy drops in and rocks move it is a whole other story. The BF Goodrich Tires gripped the rocks and kept the buggy on track through each course the entire weekend. "In natural terrain like this you need great traction especially when there is a lot of dirt to rock transitions." states Cody.
Saturday ended on a high note! The team finished every course and was in the top of the pack going into Sunday, now it was time to rest. Not for Cody! He still had another competition to get to.
Axial was hosting a West Coast R/C Championship Comp at the same location and Cody wasn't going to pass up the opportunity to flex his R/C skills. So Cody quickly went back to the trailer and grabbed his R/C 2.2 Pro Class Buggy custom built by Axial and RCP Crawlers.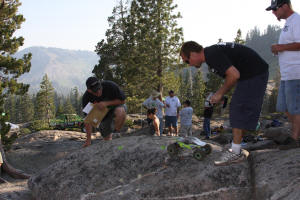 After running three R/C courses Cody found himself sitting in 9th place out of 43 competitors and in the top 15 shootout. The top 15 R/C competitors run the shootout which then determines the top 5 to run another shootout. Unfortunately, Cody fell just short of the top 5 finishing in 7th place overall. Not bad for his 4th R/C Competition and after wheeling all day. Now it is time to rest up for Sunday!
Cody and Jim had a rough start to Sunday. B2 was a tough course that seemed to give a lot of competitors a hard time. The second set of cones was a tough climb and most teams ended up taking out both cones just to make it up; if the team was lucky enough to make it. Cody and Jim unfortunately had deep holes dug right at the base of the climb by the previous competitors. (No excuses… it still would have been a tough climb either way).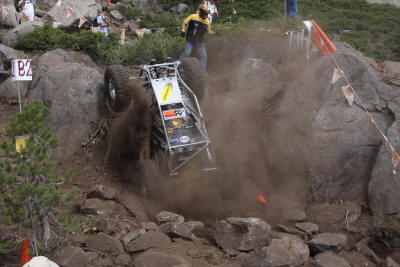 Try after try the buggy just didn't want to get out of the ruts and over the rocks. With the first course of the day ending practically where it started the guys prepared for the next course!
"I can't complain about one bad run especially since everything on our buggy is working great! Our custom built CBM motor equipped with K&N Filters is running perfect in the higher elevation; not missing a beat. I have the torque I need and the Eaton Detroit Lockers to push me through all these tough courses. The BF Goodrich Tires set up with our new Trail-Gear Creeper Bead Locks are working great too." says Cody. "That course might hurt us a little in the points, but we hope to make it up here in the next one."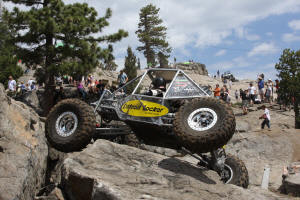 B3 was a tricky course with another tough climb. After three minutes of both Cody and Jim stacking rocks they completed the course and were on fire, ready to take on the last two courses of the day.
The final two courses went smooth and the guys ended up in 2nd place going into the shootout. This event's shootout was insane and each of the top 6 competitors put on a show for the mass of people that crowded around to watch. Only 3 of the top 6 even completed the shootout (Team Messer, Team Waggoner, and Team Haines).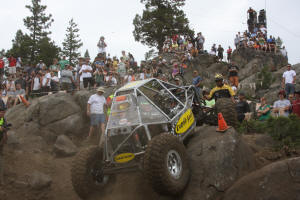 This weekend was filled with very challenging courses! And at the end of the competition Team Waggoner kept their 2nd place event finish and earned a very proud 2nd Place Series title!
"We are very happy with our second place finish and we are looking forward to the Grand Nationals in September! As always a very big CONGRATS to Haines! He is the new king of rear-steer. It is always nice to compete with great competitors like him." adds Cody.
Next big event will be the Grand Nationals in Hannibal, MO September 6th and 7th.
Click HERE for our event pictures on Webshots.
Visit Pirate 4x4 for additional coverage
Class:

Unlimited

Driver
Rig #
A1
A2
A3
A4
B1
B2
B3
B4
SO
Total
Jesse Haines
199
4
-8
2
-18
-8
16
24
-7
-8
-3
Cody Waggoner
117
-2
-3
9
-11
2
39
24
-12
11
57
Brent Bradshaw
12
-11
-13
8
11
18
18
26
-1
37
93
Matt Messer
O17
0
3
8
0
0
21
22
37
12
103
Rick Mooneyham
554
-7
7
23
-12
37
39
22
1
37
147
Robert McKenney
OO8
1
-3
21
9
3
39
38
2
38
148