WE ROCK USA - EVENT #3
Cedar City, UT
4th Place Finish
UPSET FOR TEAM WAGGONER WITH A FOURTH PLACE FINISH IN CEDAR CITY, UT
<![if !vml]>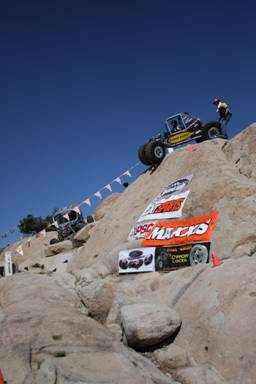 <![endif]>Capistrano Beach, CA – Team Waggoner Racing was pumped up and ready to take on another hot weekend in Cedar City, UT. With ice packs on hand, ready to keep the engine cool and prevent another vapor lock issue, the guys loaded up and headed to their first course of the day.
Course A2 is called "The Wall" by most competitors and this time instead of it being a bonus line to drive up, the course was designed to drive down the wall. It may not seem like much in photographs but it is one heck of a steep climb and is an even scarier decent. This is the time the competitors pray the brakes and low gears are working. Cody and Jim were the first to tackle this course and conquered it with -22 points and showed everyone the bonus climb could be done with ease. The guys were on fire and ready for more.
The rest of Saturday went accordingly… tough tight courses and no room for error. Cody and Jim seemed to be on their game for the most part and staying right at the top of the pack. Until they talked to another competitor about their last course of the day and jinxed it by saying that it was "Easy".
Never go into a course thinking that it is easy. There are always surprises around each turn and things are over looked because it is thought to be easy. That was a lesson well learned for Cody on Saturday. Course A1 happened to be the longest course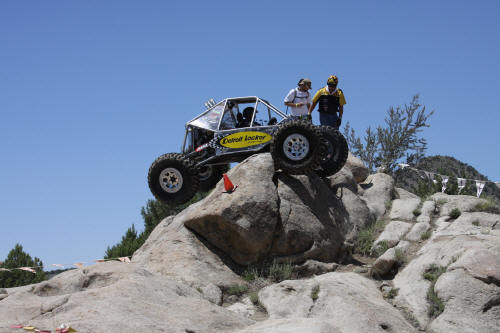 that we have seen all season. The first set of cones seemed to be a mile away and then your second set of cones was all the way back at the start gate. It was just an odd course to begin with, but nothing too tricky, hence the phrase, "Easy". Well with the course being straight forward enough and just needing to get to each set of cones before the time ran out the guys were off and running (literally). The first set of cones had a high center brake over and should be something that the buggy can climb right up and over with ease. Not the case this time… Cody forgot to let out the winch and that kept the buggies front end sucked in and prevented it to climb up and over the rock. After hitting two cones and spending half the time allotted they noticed the winch and quickly corrected the error and made it through the rest of the course with seconds to spare. OUCH! Those 25 points added to the score card dropped us to fourth place for Saturday's standings.
Tomorrow is a new day, but first back to the trailer to wrench on the rig and make sure everything looks good for Sunday.
Sunday started out great and the boys were right at the top of the pack as expected. They just had some points to catch up on from the day before. Cody took a beating on course B4 and not in points, but physically. Running short on time Cody took the bonus drop off faster than normal and landed real hard on his side, then quickly righted himself to finish.
<![if !vml]>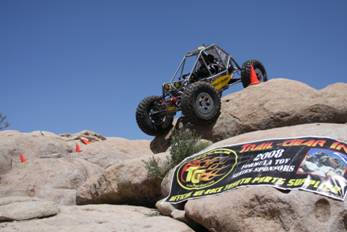 <![endif]> <![if !vml]>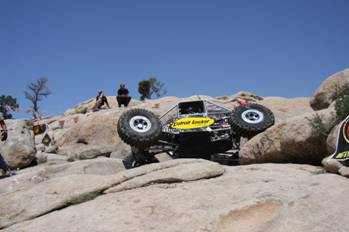 <![endif]>
(See our Webshots link for more pictures of this drop off and others from the event)
Getting ready for B1, the final course before the Shoot Out, Cody noticed the Warn Winch… It took quite the beating. Must have been the huge boulder Cody smashed into at the start of course B4.
<![if !vml]>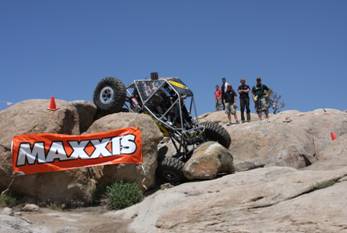 <![endif]> <![if !vml]>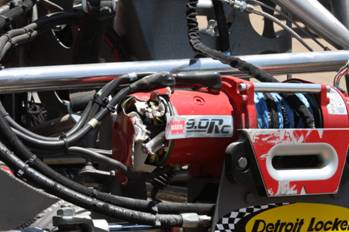 <![endif]>
<![if !vml]>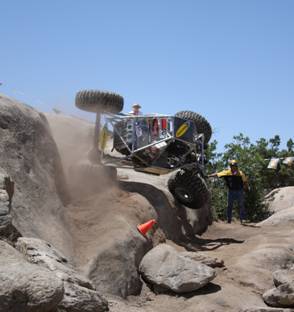 <![endif]>
B1 seemed to be going great for the guys, coasting through the first half of the course and even completing a bonus climb. Then during a hill climb around some cones the buggy got a little light and started to roll. Cody tried to gas up and out of it but it was too late. It did make for some great action pictures.
The shootout can sometimes be a place where teams have a chance to climb the ranks for a podium finish. Unfortunately that is not the case for Cody and Jim this time. Because of our set back of 40+ points we needed to just finish the course in order to keep our fourth place finish and not be pushed down to fifth.
<![if !vml]>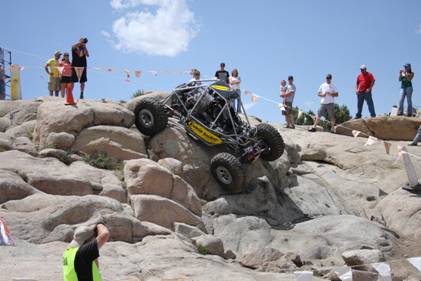 <![endif]>It was a rough weekend for some reason. Lots of little errors along the way made it too hard to catch up to the leaders. And the leaders happened to be on their game too. Team Waggoner would like to give a very big CONGRATS to Bradshaw (almost there!!!) and as always a well respected congrats to Haines and Messer! Next event will be exciting for all the teams.
Next event is July 18-20, at the Donner Ski Resort near Truckee, CA.

I would like to personally thank Staun and PRP Seats for their contribution to my new camera. I am learning how to use it to the fullest potential and promise some great shots! This event was the first time having it out and I am loving every minute of it! I am very appreciative for the help of these sponsors! I would also like to give a special thank you to Chris Geiger for helping me with the camera and learning some of the settings it can do. THANK YOU SO VERY MUCH!
Click HERE for our event pictures on Webshots.
Visit Pirate 4x4 for additional coverage
Class:
Unlimited
Driver

Rig #

A1
A2
A3
A4
B1
B2
B3
B4
SO
Total
Jesse Haines
199
1
-17
3
5
-7
15
13
-6
5
12
Brent Bradshaw
12
0
-21
31
12
-3
-1
1
2
3
24
Matt Messer
O17
-2
-22
30
10
-8
10
0
26
40
84
Cody Waggoner
117
25
-22
24
7
37
10
0
4
12
97