The Team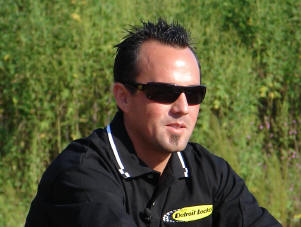 In 1994, Cody was finally convinced to sell his reliable Toyota Pick-Up Truck for a stock CJ 5. After many jeep trips to Big Bear, & TDS, Cody signed up for the High Desert Round Up Annual Jeep event held in Barstow, CA. This event exposed Cody to a different kind of 4-wheeling and is where he met Jason Bunch, of Tri-County Gear, (Pomona, CA).
In 1996, Jason invited Cody to the "Hammers" in Johnson Valley, CA, for Tri-County Gear's Customer Run. At the time the Jeep was very "stock". With no power steering, Posi Traction in the front and his newly installed Detroit Locker in the rear, it was a real challenge. After powering through two trails, Sledgehammer and Claw Hammer, Cody was hooked and the modifications to his jeep were nonstop. Needless to say, his jeep was no longer his daily driver. After a few years of wheeling in the rocks and some additional modifications to the jeep, Jason convinced Cody to sign up for his first Rockcrawling Event.
In 2001 Cody entered the Modified Stock Class at the Warn National Rockcrawling Championship in Las Cruces, New Mexico. At the end of the long three (3) day competition he and his father, Jim Waggoner, earned a very proud 2nd Place Win. Team Waggoner Racing (TWR) was now a reality. And in 2002, Cody and Jim, signed up for the CalROCS and ProROCK Rockcrawling Championship Series. They completed their first season, securing the title (in both series) as 2nd Place Modified Stock Champions. From there Cody and his father continued to prove they were the team to beat.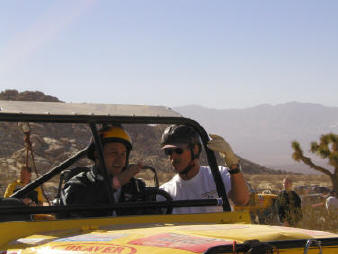 In January of 2003, Cody and Jim competed in the first annual "Put-Up or Shut-Up! Run What You Bring", CalROCS event, in Cougar Buttes, CA. There are no designated vehicle classes, which put his little CJ 5 to the test. Cody competed along with great competitors such as, Tracy Jordan, Dustin Webster, Jason Bunch, and Jon Bundrant. Taking 4th place overall was a real thrill for both Jim and Cody! For many people it proved that a little stock CJ 5 can hang with the "Big Boys".
The remaining 2003 season events were just as exciting. Cody and Jim continued with the CalROCS and ProROCK Series, and were even more successful than the first season. After competing in three (3) of the four (4) Events with ProROCK, they secured the title as 1st Place Series Champions.
TWR also conquered the CalROCS Series, taking another 1st Place Series win. After competing in over 22 Events; receiving three (3) 1st Place Championship Series titles, and two (2) 2nd Place Championship Series titles Jim decided to retire with his trophies and cheer Cody from the sidelines.
In 2004 with the help of two new spotters, Jack Graef (CTM Racing Products) and Mike Berard, TWR earned the title as 2nd Place Series Champions in both the CalROCS and ProROCK Series.
At the end of 2004 Cody purchased his moon buggy. He was ready to move up and compete with the "Big Boys" during the 2005 season. Leaving Modified Stock was a hard decision for Cody, but with encouragement from friends and family he knew it was the right move. After only competing in ten (10) events TWR had already secured the title as 1st Place Series Champions in the UROC Extreme West Series and the PROROCK Series. They were also the most winning Super Modified Team in 2005 with a total of Seven (7) First Place wins.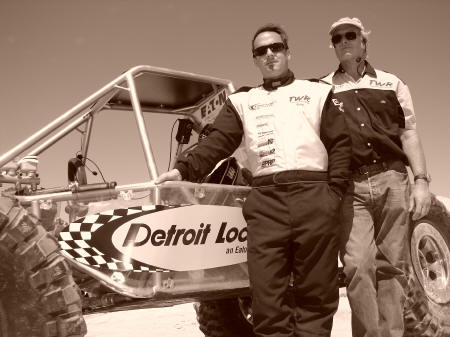 During the 2006 season the team competed in the UROC ProNationals and WE ROCK USA series. With a mid-season spotter change the team is ready to return to "Family Wheeling'". The 2006 season ended great! 2nd Place Series Champions for the WE ROCK USA Series and 6th Place for the UROC ProNational Series. In the 2007 season TWR earned a proud 3rd Place Series Champions for the WE ROCK USA series. TWR ranks 5th nationally and is was the 2008 2nd Place Series Champions for the WE ROCK USA West Coast Series.
At the close of the 2009 TWR is proudly the current 1st Place Series Champions in the WE ROCK USA Pro-National West Coast Series and ranks 4th nationally. This winning driver/spotter combination continues to rock the competition and is more than ready to take on the 2010 season and defend that title!